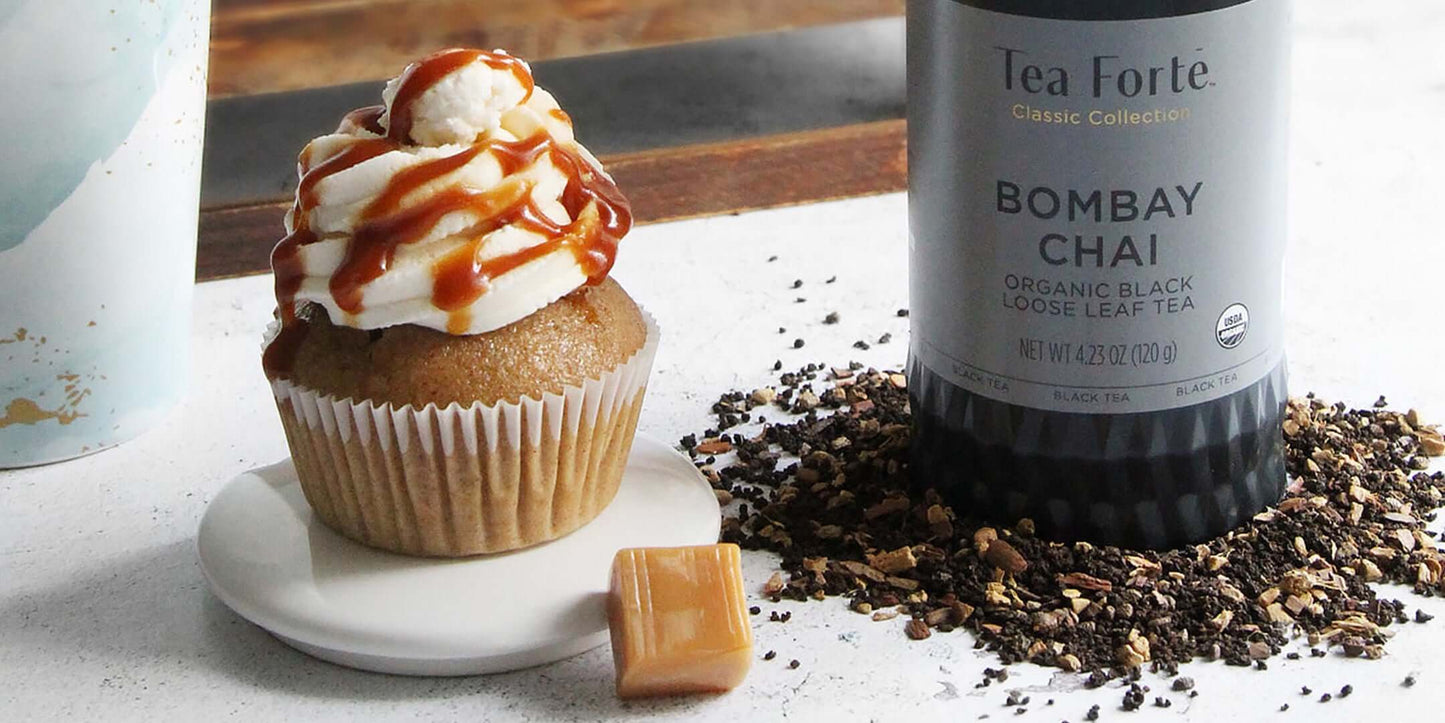 Infused with Bombay Chai tea and a caramel sauce filling, these cupcakes make for a delightful and indulgent treat. We highly recommend enjoying one with a nice warm mug of Bombay Chai tea.
Recipe by: SARA SULLIVAN
Ingredients
For cupcakes:
1 tablespoon

Tea Forté's Bombay Chai

½ cup milk

1¼ cups all-purpose flour

1¼ teaspoon baking powder

¼ teaspoon salt

1 teaspoon cinnamon

½ teaspoon ginger

⅛ teaspoon black pepper

¼ cup unsweetened apple sauce

2 eggs

¼ cup canola oil

½ cup granulated sugar

¼ cup brown sugar
For the frosting:
1 cup butter, softened

3½ cups confectioners' sugar

1 tablespoon of strongly brewed Tea Forté Bombay Chai
Filling/Garnish
Directions
Place the tea leaves and milk into a small saucepan and whisk together on low heat for a few minutes, until the milk turns a light brown colour. Set aside to cool.

Preheat your oven to 350° and prepare a cupcake/muffin tin with 12 paper liners.

In a medium bowl, whisk together the flour, baking powder, salt, cinnamon, ginger, and black pepper.

In a separate, larger bowl, stir together the Bombay Chai infused milk, unsweetened apple sauce, eggs, canola oil, granulated and brown sugars.

Slowly stir the dry ingredients into the wet mixture until just combined.

Fill each paper liner ⅔ of the way full with batter, and place in the oven to bake for 20 minutes or until a toothpick inserted into the centre comes out clean. Once done, remove cupcakes from the oven and set on a wire rack to cool completely before filling and frosting.

To make the frosting add the softened butter and half of the confectioners' sugar to a large mixing bowl. Blend together on low until just combined. Add in the remaining confectioners' sugar and the 1 tbsp of strongly brewed tea and blend until smooth.

Once cupcakes are cooled, fill with a teaspoon of the caramel sauce and top with frosting (see here for

how to fill your baked cupcakes

). Drizzle caramel sauce on top and enjoy! Store at room temperature in an airtight container.
Yield: 12 cupcakes